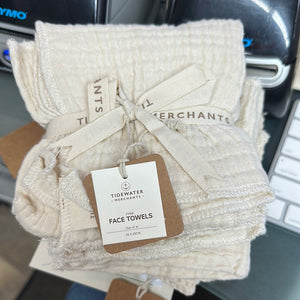 Wrap your hands in luxurious comfort with this set of Fyra hand towels. Made from 4 Cloth Cotton fabric- Fyra, these towels are designed to pamper your skin with every touch. Each towel is made to provide the perfect balance of plushness and absorbency, making them ideal for any use- be it for hand or face.
Their gentle and delicate texture caresses your skin, while their durable construction ensures that they will last for years to come. They have a crinkled pattern all over the surface as a result of the Fyra fabric, which also adds a touch of character to the otherwise plain and subtle nature of the material. With their warm colours and soft texture, these hand towels are the perfect addition to any bathroom. You and your guests are sure to be left in awe of the elegant and wispy nature of the fabric while experiencing the comfort and style of these soft hand towels. Available in 2 gorgeous colour variants- Natural and Sand Brown.
KEY FEATURES:
- Lightweight
- Soft and gentle fabric
- Set of 4
DIMENSIONS:
25 x 25cm

CARE INSTRUCTIONS:
It is recommended that 4 cloth Cotton products are gently hand washed with a mild detergent. You can also machine wash, opt for a tumble dry.